Enjoy The Power To Pay Later
It's interest-free

Make 4 interest-free payments with Pay in 4.

Get a decision in seconds

You won't have to wait long to see if you're approved

It's Backed By PayPal

Get the same security and Purchase Protection
you already enjoy from PayPal

Easy Payment Terms and Ways

Make the remaining 3 payments,
one every two weeks, in the app or online
About Pay in 4
PayPal Pay in 4 is available for eligible purchases of $30-$1,500.
Offer availability may depend on the merchant.
When you apply, we may run a credit check to determine your eligibility.
We don't charge late fees, but late or missed payments could affect your PayPal account and credit score.
You must live in Australia, have an Australian PayPal account, and be of legal age in Australia to use Pay in 4.
PAY IN 4 | FAQ
What is Pay in 4?
Pay in 4 is a feature that lets you split your purchase into 4 payments, with the down payment due at the time of transaction and 3 subsequent payments made every 2 weeks thereafter.
Will I be able to use Pay in 4?
We are offering Pay in 4 to a growing number of our customers. You must be at least 18 years of age (or the age of majority in your state) to apply. You must also have a PayPal account in good standing or open a PayPal account in order to apply.
Pay in 4 is not available for certain merchants and goods. If you choose Pay in 4 as your payment method when you check out with PayPal, you will be taken through the application process. You will get a decision instantly but not everyone will be approved based on our internal checks.
How can I pay with Pay in 4?
Just choose to pay with PayPal when you shop online and if it is an eligible transaction, you will see Pay in 4 as one of the available payment methods. Simply apply for a Pay in 4 plan in just a few steps, get an instant decision, and finish checking out.
What purchase amounts qualify for Pay in 4?
You can use Pay in 4 for eligible shopping cart values between $30 to $1,500.
What are the terms and conditions for my Pay in 4 plan?
You must read the loan agreement of your Pay in 4 plan before you submit your application. You will see the link to the loan agreement when you choose to apply for Pay in 4 at checkout. You will also have the option to download the loan agreement.
Once your plan starts, we will send you an email containing important information about your Pay in 4 plan, including how to locate your loan agreement.
Are there any fees associated with Pay in 4?
There are no fees for choosing to pay with Pay in 4.
How long will my Pay in 4 plan last?
Your individual plan will last a little over 6 weeks in total. The down payment will be due at the time of the transaction and 3 subsequent payments will be taken every 15 days thereafter.
Where can I pay with Pay in 4?
Pay in 4 is available to use at selected merchants where PayPal is accepted. Transactions can be made in all currencies that PayPal supports, not just AUD. For transactions not in AUD, PayPal will automatically convert the transaction amount to AUD at checkout before providing you with your Pay in 4 plan. Currency conversion charges will apply as set out in your PayPal User Agreement.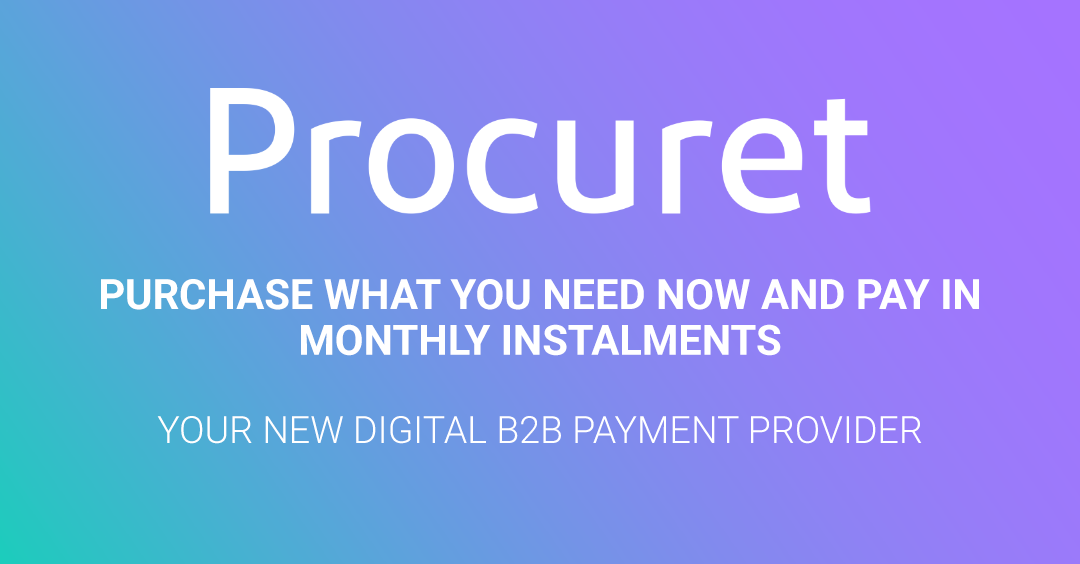 Morgan Sports now offers resellers and their clients the option to pay for their orders in monthly instalments through Procuret.
Procuret is a fast, flexible and secure digital payment solution built for professional businesses to better manage their cash-flow. Procuret helps you purchase the products you need for your business and pay for them in manageable instalments.
It is cash flow friendly and time-effective.

How Procuret Works for Business Clients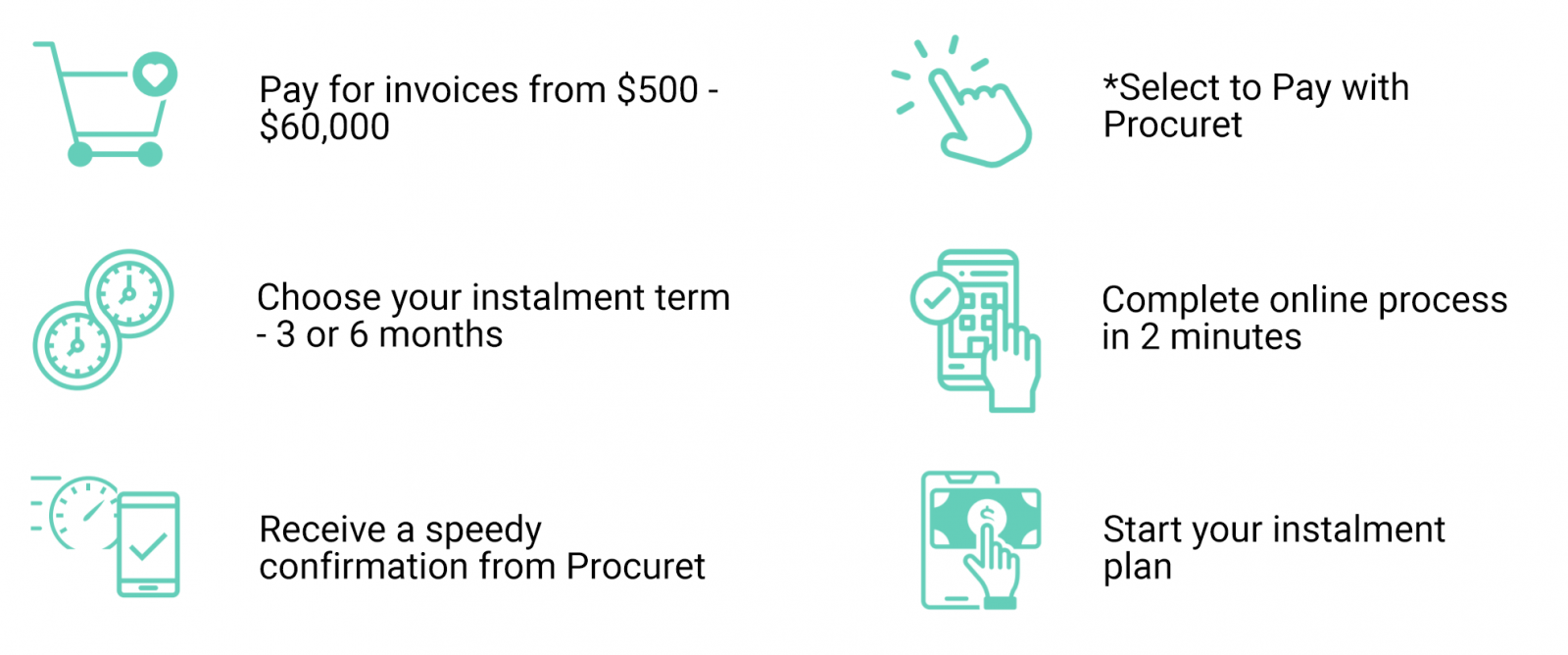 *Term & eligibility criteria apply
PROCURET FAQ
What is Procuret?

You now have the option to pay your invoice in smaller instalments over time though Procuret - it's another way to add value to your business!
What do you Pay?

• The best way to think about Procuret is like choosing to pay your upfront insurance over 12 months rather than upfront

• So long as you pay your monthly instalments on time, there are no additional fees
Why Procuret?

• Cash management is an important consideration for any business

• Procuret is designed to smooth out larger invoices into small manageable payments

• Procuret's payment option is fast, convenient, and simple and with no fuss or paperwork
How do you use Procuret?

• To pay in instalments, all you need to do is click the 'Pay by Instalment' option at the bottom of your Invoice or Proposal and follow the prompts

• Procuret uses a digital and data-based approach that relies on your ABN, bureau-based credit history and other parameters to assess qualification

• Qualification terms and eligibility criteria apply
Does this impact any of the terms of engagement with the Supplier?

• No, Procuret is just another payment method. The obligations that you have under the terms of engagement with your supplier continue to apply. Service, hardware, and software warranties that you have with the supplier of your product, to apply directly with your Supplier
Is there interest on the payment?

Your Supplier has negotiated with Procuret so that the monthly instalment is what you pay. The best way to think about it is like getting insurance paid monthly rather than upfront.
Are there any other fees?

So long as you pay your instalment on time, the monthly amount presented by Procuret is what you pay.
What if I pay late?

If there is a chance that you will miss a payment, please let Procuret know beforehand. If a payment dishonours once Procuret has attempted to direct debit your account, then a dishonour fee of $10 applies to cover the cost of re-running the payment and processing charges incurred. The payment will be attempted again the next day. If the payment continues to remain unpaid, further late charges may apply so it is always best if you can pay on time!
It seems that it's 'Powered by Procuret', what does that mean?

Procuret is an Australian based payment service focusing on business. Procuret can offer monthly instalments for invoices. Procuret does all the processing.
Am I able to prepay my instalment plan?

Yes, you can prepay at any time. There is a small prepayment charge depending on when in the contract term you request to prepay. Contact us on hello@procuret.com if you wish to prepay.
Do I have to enter my credit card or bank details to pay monthly?

Yes. To make processing manageable for you and Procuret, instalment payments are made through authorised direct debit either via credit card or your business bank account.
Why is it asking me for my ABN details?

Procuret is a B2B payment platform. Requesting your ABN allows the instalments to be in the name of the business rather than you as an individual. Procuret runs data-based assessment criteria based on your ABN and other criteria.
Why is it asking me for my individual details?

This is to reduce the risk of fraud for all parties. It prevents scammers pretending to represent your business and as a payments company, Procuret also has a regulatory obligation to ensure it can identify the users of the service.
How do I contact Procuret customer support?

You can contact Procuret support via email hello@procuret.com or via phone (02) 8866 5399