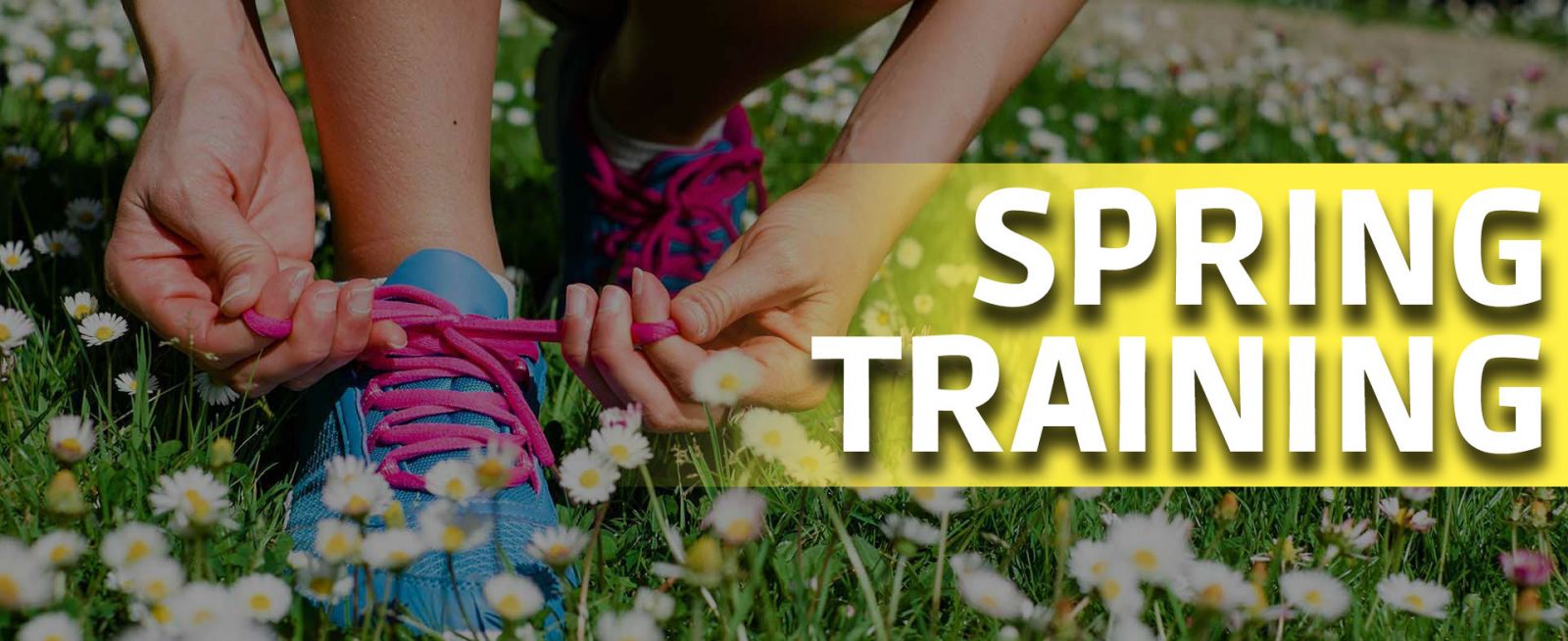 It's that time of the year again when you put away your thick jumpers back into storage and take out your training pants to enjoy the sun! It is the perfect time to reignite your motivation and get a healthy start to spring clean your fitness routine. Here are 20 "freshening up tactics" to get you started.
Spring Training Fitness Tip: Book a Physical
In 2018, more than eight in ten Australians (82%) saw a General Practitioner for an annual check-up. You may or may not be one of them, it is still essential to get yourself checked to keep tabs on your blood pressure, cholesterol levels, and vitamin deficiencies before getting started on the workout routine of your fitness program.
Spring Training Fitness Tip: Set a Realistic Workout Schedule
If you haven't been working out much this winter, don't set an impossible workout schedule that you can't stick to. If you write down outdoor cardio exercises for 30 minutes a day and six days a week, you'll end up disappointing yourself, or worse giving up. When you set yourself a schedule to follow, first think of your previous level of commitment — how often did you train, the type and intensity of your workouts, etc. Focus on consistency in the timing and type of workouts so that you can easily slip into a pattern. Eventually, adjust your workout plan to align with your fitness goals. Post your exercise plan in your smartphone's calendar app or write it down and pin it close to your work desk, so you can tick them off as you go along.
Spring Training Fitness Tip: Team Up
Creating new habits or reigniting good old ones is more effective when you do it with a partner. As the popular saying goes "you're more likely to stick with a plan if you've got a partner in crime". Choose a workout buddy who has similar goals as you who's schedule fits your own. Plan to do your exercise routine and get together at the same time four days a week, whether it's before work or just before dinner.
Spring Training Fitness Tip: Buy New Running Shoes
The best way to kick-off a fresh start on your fitness journey is to buy a new pair of running shoes. Also if you've been hitting the gym all winter, chances are, you're due for new running kicks anyway. Everyone loves the feeling of new shoes! But make sure you find the best shoe that will support you properly, especially if you're a runner.
Spring Training Fitness Tip: Clean Out Your Pantry
It's tempting to seek out some tuck-away comfort food hanging around the cupboards after a bad day. But if you are really serious about following through your fitness program, get rid of them! Throw away foods that offer little to no nutritional value, like popcorn, chips, chocolates, even those 100 calorie snack packs. Restock your pantry with food that will help support and nourish you during physical activity.
Spring Training Fitness Tip: Protect Your Skin
Now that you're ready to head outside again for a bit of outdoor fitness activity, you'll be unable to avoid the sunshine. Although more sunshine means a healthy dose of vitamin D, it also means your skin is exposed to harmful UV rays. Protect your skin from sun damage by using waterproof sunscreen with at least SPF 15 or more over all exposed areas of your body including easy-to-miss areas like behind your ears, the back of your neck and the crease near your underarms.
Spring Training Fitness Tip: Pump Up Your Playlist
Reinvigorate your spring fitness with up tempo songs from esteemed artists embracing warmer weather and sunshine. Download a fresh workout playlist to get you up on your feet and out into the street.
Spring Training Fitness Tip: Skipping Rope
Jump rope or skipping rope is one of the best workouts you can do wherever and whenever. This favourite childhood "workout" can burn around 208 calories in just 20 minutes. You'll also lose fat and gain lean muscle mass to aid your strength training. Also, add other cardio exercises for an effective circuit program.
Spring Training Fitness Tip: Update Your Workout Wardrobe
There's one thing that will motivate you to get moving before warmer weather seriously settles in: new workout wardrobe. Get rid of any worn-out activewear and replace them with new workout clothes for spring — shorts, tanks, and tees in breathable and wick fabrics. You might want to update your sports underwear too and find ones that are tailored to your fitness and comfort.
Spring Training Fitness Tip: Stretch Out
Stretching before and after physical activity helps warm the body up, thereby prevents injury and decreases muscle soreness. It also increases flexibility and joint range of motion for improved performance. Start with a 10-minute light outdoor cardio, then a dynamic stretching (stretching while moving) such as lunges, inchworms, leg swings, and page turns. After your workout, complete a static stretching (your typical "touch and hold" routine). Yoga, Pilates and dances are also great fitness activities.
Spring Training Fitness Tip: Stay Hydrated
Spring is the perfect time to check in with your hydration plan for warm-weather activities. Drink about two litres of water a day to avoid muscle cramping. As a general rule of thumb: the more your body sweats, the more fluids you need to replace, so make sure to drink plenty after a vigorous and hard workout. For longer workouts, you might want to switch to a sports drink that contains a mixture of electrolytes, water and carbohydrates to meet your hydration needs. Remember to only use stainless steel bottles to avoid some of the chemicals associated with certain plastic varieties (such as Bisphenol A, or BPA).
Spring Training Fitness Tip: Plan a Trip
Outdoor exercises are great, but if the weather's still cool and you want to take a health vacation, then do so. You can include hiking, biking, or a yoga retreat in your fitness plan. This will also help you combat weight-loss plateaus and regain strength and confidence.
Spring Training Fitness Tip: Get Sporty
Make fitness more fun this spring. Break up your routine with outdoor exercises that you can enjoy with family and friends. Even playing an afternoon of touch football will get your heart going, and you don't even have to be good to play.
Spring Training Fitness Tip: Hit the Farmers Market
Once you've cleaned out all the junk food from your pantry, it's time to hit the farmers market to shop for fresh fruits and veggies. While you're at it, soak up some spring sunshine as you pick out nutritious treats. Some items worth picking up include fish, dried fruits, and nuts.
Spring Training Fitness Tip: Change Your Thinking
Instead of designing your fitness plan based solely on weight loss, concentrate on how you feel. It's better to think in terms of portions instead of counting calories, especially if the latter has you down. If you catch yourself watching the clock during your workout, chances are finding a sport or activity you enjoy is the best way to achieve your fitness goals.
Spring Training Fitness Tip: Step Off the Scale
Don't let the scale determine your fitness improvement, instead focus on how you feel and the changes you see (you may find your body looks more toned). Muscle weighs more than fat, so there's a chance you might not shed the pounds at the rate you'd expect. For an accurate measurement of your progress, use a measuring tape once every two weeks and see where you're trimming down from your waist, hips and other target areas.
Spring Training Fitness Tip: Jump On the IG Train
Post your fitness journey on Instagram. Getting vocal about your fitness routines and goals with your friends and other people will help you commit and become motivated to keep at it. Regularly give updates on your progress, post links to your favourite fitness articles and products. Follow others with the same fitness journey and cheer them on, they will do the same for you.
Spring Training Fitness Tip: Tie On Weights
Add some extra challenge to your strength training using wrist and/or ankle weights. Wear the weights while cleaning the house, walking the dog or doing simple everyday activities. This will help tone up your arms and legs and strengthen the muscles.
Spring Training Fitness Tip: Sign Up for a Race
Signing up for a springtime race is a great way to stay motivated. It will give you more of a purpose to work hard on your training for other reasons than losing weight. Search on Facebook events for upcoming local road races. 5K distance fun-runs are perfect for beginners. Sign up with your fitness partner to make the activity more fun. Joining springtime races is also a great way to get involved in your local fitness community!
Spring Training Fitness Tip: Reward Yourself
Don't forget to reward yourself after each milestone is reached. You can shop, go on a weekend trip or simply get a good body massage to pamper yourself, while you get rid of toxins and speed up muscle recovery. Spring is a new season to make a fresh start. While setting your new fitness plan, keep in mind that fitness isn't one size fits all. It is essential to assess your current fitness level first and consult a fitness professional as needed. Make the most of the warmer days and spring into action to become healthy and fit.