A Beginner's Guide to Wrist Straps for Weightlifting
It is important to be extremely careful with your wrists when you are performing weightlifting exercises or any other activity that involves repetitions or movements that place strain on the wrist. So how do weight lifters make sure they don't injure their wrists while performing lifts? They use a weightlifting wrist strap.
What are Wrist or Lifting Straps?
A weightlifting wrist strap, also known as a lifting strap, can protect your wrist from pain and injury. Wrist straps are sewn pieces of heavy-duty cotton, nylon, or leather that loop around the wrist and the bar to make it easier to grip a piece of heavy equipment for heavy-duty liftings like deadlifts, lat pulldowns, rows, and many more.
Wrist straps are designed to provide weight lifters with better grip control when doing heavier reps. It is a universal training strap that can be used by beginners and pro-weight lifters alike. However, it is important to determine the best type of wrist strap for your training.
What happens when you lift with a wrist strap?
With a weightlifting wrist strap, the tension from it causes the wrist to rotate slightly. As you begin lifting the weight, an individual hole starts to form under your hand causing the weight to start moving. This motion is then transferred back through the wrist and forearm causing movement in your entire arm and upper body.
Another way to explain this is that when you lift with straps, they act as a lever. This means that the mechanical advantage of your wrist is directly related to the amount of force you can lift. This is why lifting straps can be a great way to get more weight out when you're just starting out in weightlifting.
This is also why wrist straps are a common device used by bodybuilders. The simple fact is that they allow you to lift heavier weights than you could without them because the strap increases the leverage of your muscles.
Types of Weightlifting Straps
There are three main types of lifting straps to choose from: closed-loop lifting straps, lasso lifting straps, and figure-eight lifting straps.

Closed-loop lifting strap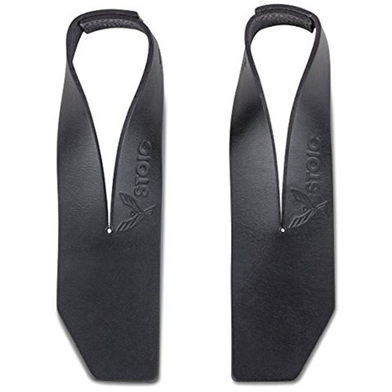 The closed-loop lifting strap, also known as Olympic weightlifting straps, is best for Olympic lifts where you need to be able to release the bar to get it over your head. However, this. also makes it the least secure among the lifting strap types and is not the ideal strap for deadlifts, rows or anything else.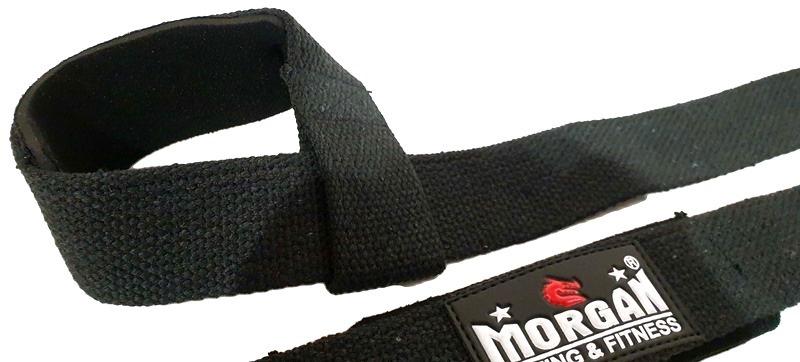 Lasso lifting strap
A lasso strap has a loop that attaches around your wrist and an extra piece that can wrap around the bar multiple times for a tighter grip. This type of strap is the most versatile and is great for casual lifting and pushing past personal records. For beginner's safety, look for lasso straps with extended length for the part that wraps around the bar for a tighter grip and extra padding.
How to use a lasso lifting strap?
Wrap it around your wrist then wrap the hanging end around the bar. It is a similar setup for a closed-loop lifting strap, except lasso straps have more material to wrap around the bar. The video below shows how to use the lasso straps.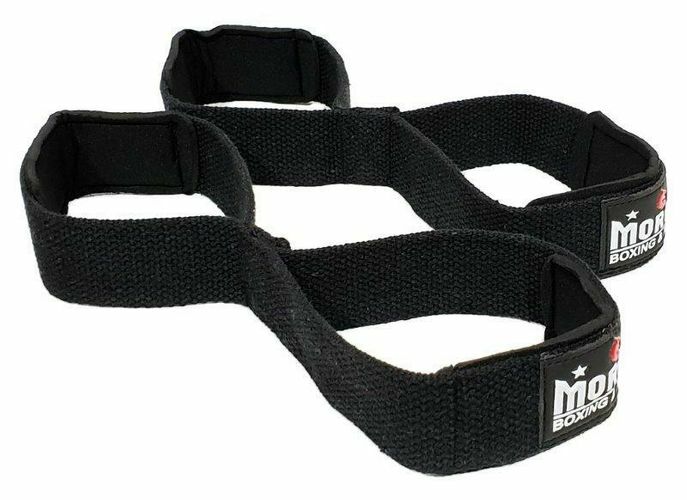 Figure-eight lifting strap
The figure-eight lifting strap is as the name suggests is shaped like the number 8. Some would also call it the infinity loop. This type of strap loops around your wrist, under the barbell, and wraps around your wrist again.

Unlike the lasso lifting strap, the figure-eight can only be wrapped around the bar once. Despite its lack of versatility, it is the most secure among the types of straps and is the best for maxing out a deadlift.
Why Wear Wrist Wraps? Benefits of Using Lifting Straps
The use of lifting straps is surrounded by the controversy of whether its use is fair or considered cheating because a piece of cloth or leather is supporting a great deal of load than the lifter's hand alone. Whether or not you should use straps depends on the situation and the individual. However, for beginner weightlifters using a lifting or wrist strap is highly recommended if not a must for safety reasons.
So what is the purpose or benefit of using lifting straps?
1. Lift heavier weights at longer periods
Weightlifting straps are designed to support your wrist by connecting your wrists/hands to the weight. It helps the lifter focus on completing heavy sets without the grip failing or compromising lifting form, therefore allowing strength training progress.
2. Provide comfort
Every beginner weightlifter should wear lifting straps for safety and comfort especially for those that tend to sweat more or have weak grips. With lifting straps, you are able to lift easily and comfortably.
3. Reduce grip fatigue
Lifters who do not use lifting straps fail to hit their max strength because of grip issues. Muscles in the wrist and forearms are small and so they will fatigue first which leads to grip failure. Using wrist straps eliminate the grip issue and fatigue which allows you to lift more weight and max your PRs in a number of lifts. This helps your continued progress and muscle building.
4. Reduce the risk of a wrist injury
Straps keep the grip secure so that heavyweights don't slip out and hurt your wrist or any parts of your body. But using a strap is not enough, you need to make sure you're also using them correctly.
How to Use Lifting Straps Properly
Here are simple steps to follow for how to use lifting straps.
Thread the ends of the straps through the loops. This step is for lasso straps, so skip this if you're using another type of strap.

Put the strap on by wrapping the lifting strap around your wrist or sliding your hands through the circles.

Pull on the ends of the straps or adjust until straps fit snugly around your wrist.

With one hand, select one end of the strap and place it on the bar.

Wrap the excess material in a twisting motion around the bar. Start by going under the bar from back to front, then over the top and under again.

Place your hands over the straps to hold them in place.

Leave the excess material hanging after one rotation around the barbell

Tighten by cinching the strap for a snug fit on the barbell
Which Exercises Can You Use Lifting Straps On
If you plan to improve the size and strength, use straps to improve your ability to do so. Here are some exercises where wrist straps can help you get there fast.
Deadlift

Rack Pulls

Lat Pulldowns

Pull Ups

Shrugs
How to Choose the Right Wrist Strap
Here are some tips for choosing a weightlifting wrist strap so you can be protected during your workouts.

1. Wrist safety
First and foremost, make sure you are using a wrist strap that fits your wrist correctly. As it is the most important part of your lift, you shouldn't skimp on this. If there is too much extra material that can cause discomfort or injury. Also, make sure to use a strap that doesn't slide up and down while lifting.

2. Quality
If you're going to use a wrist strap, choose one that fits comfortably around your wrist without cutting off circulation or putting pressure on your joints. Remember that when you add weight, the weight of the plates can add up to a lot of force.

3. Length
The ideal length for lifting straps depends on the situation. They can be anywhere between 30cm to 76cm. The most common length for weightlifting is about 50cm for men and 30cm for women.

4. Size
Most sling or wrist straps come in different sizes, so check the size if you're not sure. Make sure that your band fits snugly around your hand and does not slip or slide.

5. Price
The price of a weightlifting wrist strap is determined by several factors including the thickness of the material, design and quality of craftsmanship. If you are going to buy one, it is recommended that you buy a more expensive one than what you would normally spend on something as simple as socks.
Conclusion
Weightlifting straps are a great addition to weightlifting for beginners who are looking for extra support to maximize their strength training. Even though you will feel the benefit of using them the first time, you will soon realize that they can add more safety and comfort while lifting heavy weights, and they can help you hit your lifting goals.

As long as you do your research properly and make sure all the straps fit properly, there is no reason why you should not set new records in your lifts every month or week.
Looking for a powerlifting wrist strap to kick off your weight lifting journey? Morgan Sports offer high-quality lifting straps made of 100% reinforced cotton with neoprene inserts for extra comfort. This allows you to grip the bar harder and effectively transfer weight from your hands into your arms.

Contact us for more details!
Sources
https://www.menshealth.com/fitness/a19531705/lifting-straps-for-weightlifting/
https://www.gymreapers.com/blogs/news/how-to-use-lifting-straps
https://www.wikihow.fitness/Use-Lifting-Straps