Fitness Training Tips for Autumn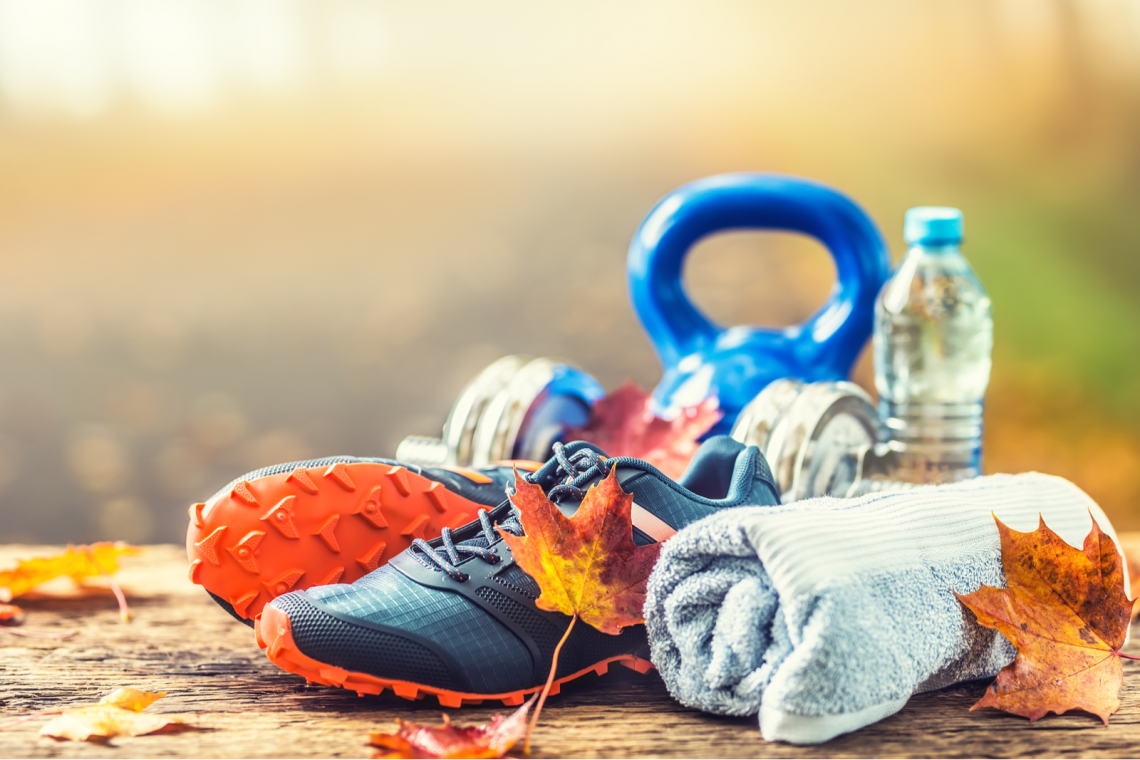 The start of autumn is the best time to enjoy doing some fun activities outside such as running or cycling while enjoying the cooler temperatures, cloudy skies, and beautiful scenery.
In contrast to sitting on the couch constantly looking at your high-tech mobile screens, you get to enjoy nature, see the leaves change colours and dodge a few squirrels scurrying to bury chestnuts away. Fun fact, while dodging and weaving through squirrels might be a bit distracting to an otherwise smooth run, this helps stabilise your muscles.
You should take advantage of this season to pick up the pace and log more miles so you don't lose it all as winter rolls around. Whether you want to make the most of autumn to progress on your speed, strength or endurance, we've got a few tips for your autumn training.
Develop strong habits
Setting new goals for yourself and building a training routine in autumn will help you stick with it even through the colder and darker winter season. You'll be able to continue training without difficulty since you've already created a strong autumn training base (just like when squirrels store away chestnuts for winter) to help you maintain the habit, instead of hibernating and losing everything you've worked hard to gain.
Lay the groundwork
We've established that autumn is a great time to build your base, whether you plan to start running or cycling to get fit or enter a spring marathon. Autumn is a great time to start slow and lay the groundwork for your fitness goals.
Before building the foundation of your autumn training goals, first, you have to decide your end goal and then work backwards and decide on the best autumn plan for you. It could be:
Buying running shoes so you can start with a run/walk routine until you can do a full marathon.

Completing a 5-kilometre run or other distance.

Getting used to riding a bike and cycling for short trips and quick errands.

Exploring great trail races by joining cross-country events which will immerse you in autumn mud and leaves (literally) at the same time build your strength and stamina.

Boosting your basic strength and flexibility so you can run or cycle more efficiently.
Plan fitness goals
Many spring and summer events registration open in autumn, so while you have your fitness goals for the year, why not take the opportunity to enter, build your base, and get a little bit closer to your goal.
But whether you join events or not, if you want to stick to your goals you need to find specific and tangible milestones that you can track throughout your autumn fitness journey. It is also useful to consider other support methods to help you along such as getting enough sleep for muscle recovery or eating smaller meals to stabilise your body's sugar level.
Have the right gear
Preparing for your autumn training means having the right clothes and gear. It is important to choose the right training clothes that are breathable and water-repellent, but not too warm.
High-quality shoes are also important for good step security and increase surefootedness on trails.
Don't forget to take stock of any gear you'll need for your home gym for when you need to carry on with your routine around winter when the frost hits. Having the right fitness gear will ensure your fitness routine you started in autumn will be excuse-proof.
Once winter hits you may not be able to continue with your outdoor workouts, so enjoy them while you can. On the same note, it is also best to start incorporating indoor workouts in your routine now so you don't get discouraged when you're forced to stay indoors and running or cycling is harder to achieve.
With these autumn training tips, you have everything you need to kickstart your fitness journey just as the leaves are turning. Get started now so you don't need to write down a fresh list of new year's fitness resolutions again.