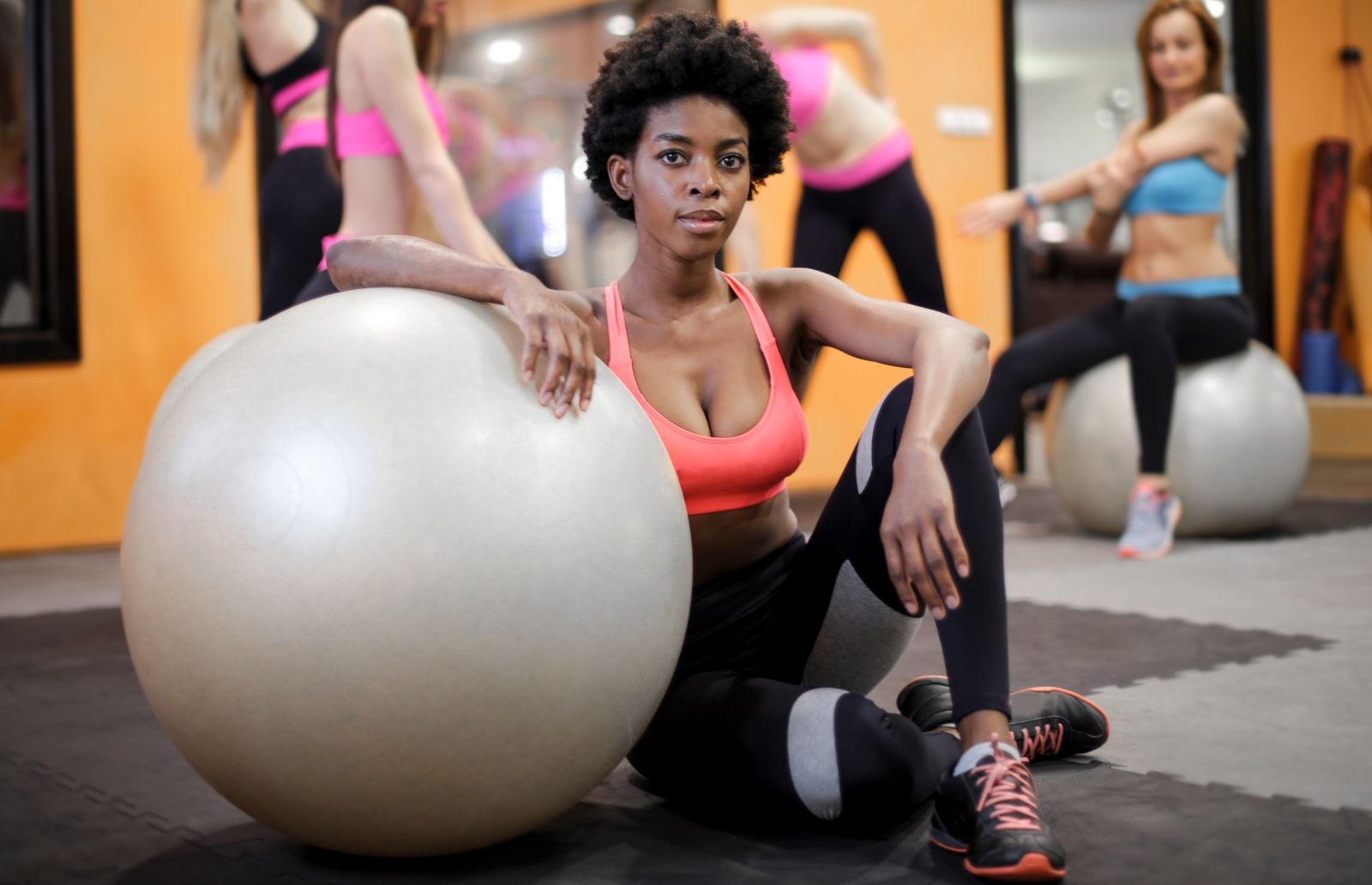 Exercise Ball - Beginner Guide to Fitness
You don't have to bounce on exercise balls, they can also be a fun way to improve your posture and muscle strength. Use an exercise ball to improve your health.
What is an Exercise Ball?
A Swiss, or Physioball, is a rubber-inflated ball that can be used to strengthen and tone muscles. You can choose from a variety of sizes and colours. They are defined by the size and colour they have.

Use an exercise ball to your advantage.
A Swiss ball, physioball, stability ball and many other names refer to its origin and use. This ball is a common name in the worlds of rehabilitation and fitness. The Swiss ball is made of soft elastic and has a diameter between 35 and 85 cm (14 and 34 inches). It's filled with air and was originally called the "Pezzi Ball" by Aquilino Cosani in 1963.

The ball was used within a decade by European physical therapists, including one in Switzerland, who specialised in postural rehabilitation and back rehabilitation. A number of American physical therapists were fascinated by European rehabilitation methods, especially those from Switzerland, in the 1980s. They brought the Pezzi Ball back to America and gave it the new name, the Swiss Ball.
We now know what an exercise ball looks like. A Swiss ball can be used to exercise because the body reacts to its instability to stay balanced. This can lead to better back and spine health, core stability and posture, as well as improved muscle balance.
1. Increase your flexibility
Correct use of the exercise ball can improve flexibility. It can be used to warm up and stretch before you begin your workout. The exercise ball prevents injury and keeps the joints and muscles flexible. The ball provides constant support for your body during exercises. This reduces the chance of injuries such as twists, sprains, and jerks. It's a great equipment choice for gymnasts. It gives them the flexibility and strength they need to perform difficult positions such as leg bridges, back bridges, and bridges with an arm.
2. Strengthen your core and leg muscles
The right way to exercise with a ball is good for strengthening the abdominal and lower back muscles. These muscles support the lumbar spine and maintain core stability. The core area includes the rectus abdominal, obliquus Abdominis and transverse abdominis muscles. These muscles are often used in daily activities such as lifting or reaching for something. These muscles are responsible for moving the body in the desired direction. The exercise ball can be used to stabilise the muscles and maintain a better condition. A strong core is important for protecting the lumbar region of your body, and keeping you balanced during any weight-bearing stress. Strong core muscles can also stabilise the spine, pelvis, and shoulder. When you sit, it can also improve your leg muscles strength.
The exercise ball improves core strength and muscle endurance, as well as increasing stability and control.
3. Improve your balance and posture
To maintain balance and stability on an exercise ball, you will need to use your abdominal and back muscles. To maintain balance, even if you're just sitting down on the ball, it is important to actively engage the stabiliser muscles. You will also be able to focus on your posture and stability, which in turn can lead to better posture. A good exercise ball can help you maintain a healthy posture. It is important to use an exercise ball properly and align your body correctly in order for the best results.
4. Reform your body
The exercise ball is a great tool to sculpt your abs and shape your body. The exercise ball can be used to strengthen your core and lower limb muscles by allowing you to sit on it. For flat stomach and sculpted abs, consider adding gym ball exercises to your daily routine. You can also practice different motions on the exercise ball to get the best results.
5. Support during pregnancy
A great tool for pregnant women is the exercise ball. They can help balance and maintain extra weight, as well as the shift in the centre of gravity caused by pregnancy. It can be used by pregnant women as an accessory to their daily exercise routine, to help them gain strength and perform labour exercises. This equipment can also be used to support the mother during labour with certain positions of gentle bouncing and rhythmic movement.
6. Other health benefits and uses
You can improve your posture by using a gym ball. This will help prevent back pain and strengthen your core. The gym ball has many other benefits. Your body is constantly moving and staying in a non-static state, which helps improve the functioning of your circulatory system.
It can also be used to increase your energy and muscle tone. It can generally improve the firmness, energy, and tone of your body.
Not only that, but it also gives you more flexibility and helps to improve your workout experience. This helps to increase the efficiency of your workouts and routine by increasing resistance and range.

To give your shoulders and back a workout, you can place the ball between your back to a wall and keep your head up. An exercise ball is a great tool for back pain rehabilitation. It can also be used to do lighter exercises to regain strength and stability.

To strengthen your core and improve your abs, you can do crunches with the ball. The gym ball can also help build a stronger spine and burn calories.
It is also convenient to use at home, so you don't have to travel to the gym for the same benefits. You just need to use the exercise ball correctly!
You can order gym equipment online, or visit local stores that sell gym accessories. Get your exercise ball today!
The dos and don'ts
Exercise balls, like all other things, have their set rules and must be adhered to.
DO IT:
Select the right ball for you.

To prevent any injury from a fall, place the ball on a well-kept open area.

You can do it with the guidance of a physiotherapist or qualified instructor at the gym

Slowly progress from beginner to pro

Keep the ball cool

Use soap water to clean them often
DON'T DO IT
Don't overinflate your ball

It should not be used near sharp objects.

Keep them out of direct sunlight

Don't stand on them

It should not be used as a toy.

It should not be used as a chair.

These are exercises you can do on an exercise ball, from easy to advanced
You have many options when it comes to exercise equipment. Why not use an exercise ball?