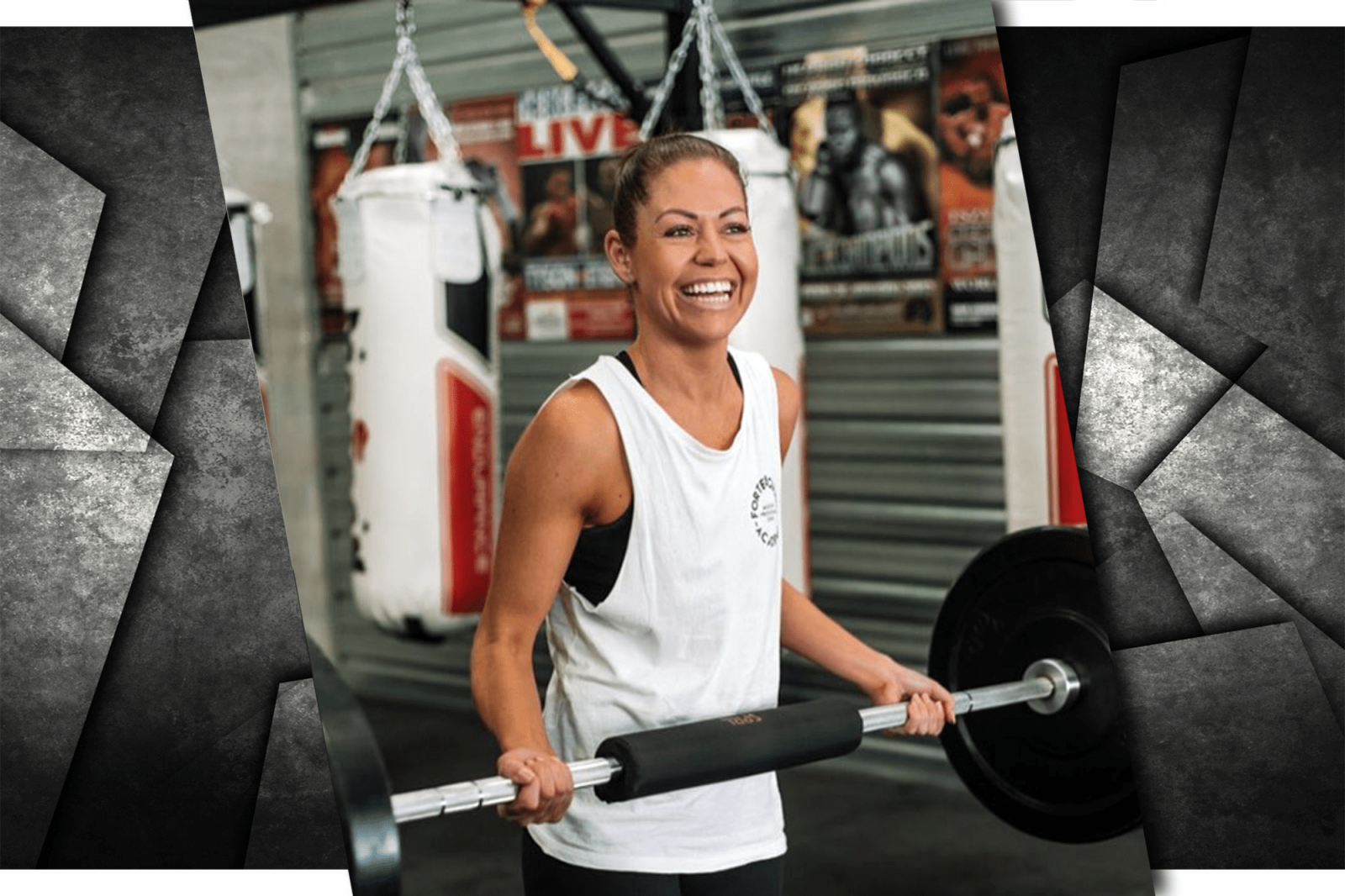 Beginners' Guide to Weight Training: Diet, Routines, and Myths
This guide is a method for participants who want to make a positive change in their lives, and their bodies, through weight training, but have no idea what it is like to go to a gym or have an exercise routine. If you are already a weight lifter, then this guide will help you dispel any doubts you may have. Once you use it, you are sure to lose a few extra pounds or gain weight, depending on your goal.
A person who doesn't have an exercise routine, or who enjoys eating without understanding the consequences for his or her body, maybe stunned by the word diet. But proper diet is the most important thing to gain, or lose weight. It is what gives you the strength and energy to do the exercises correctly.
How to have the right nutrition plan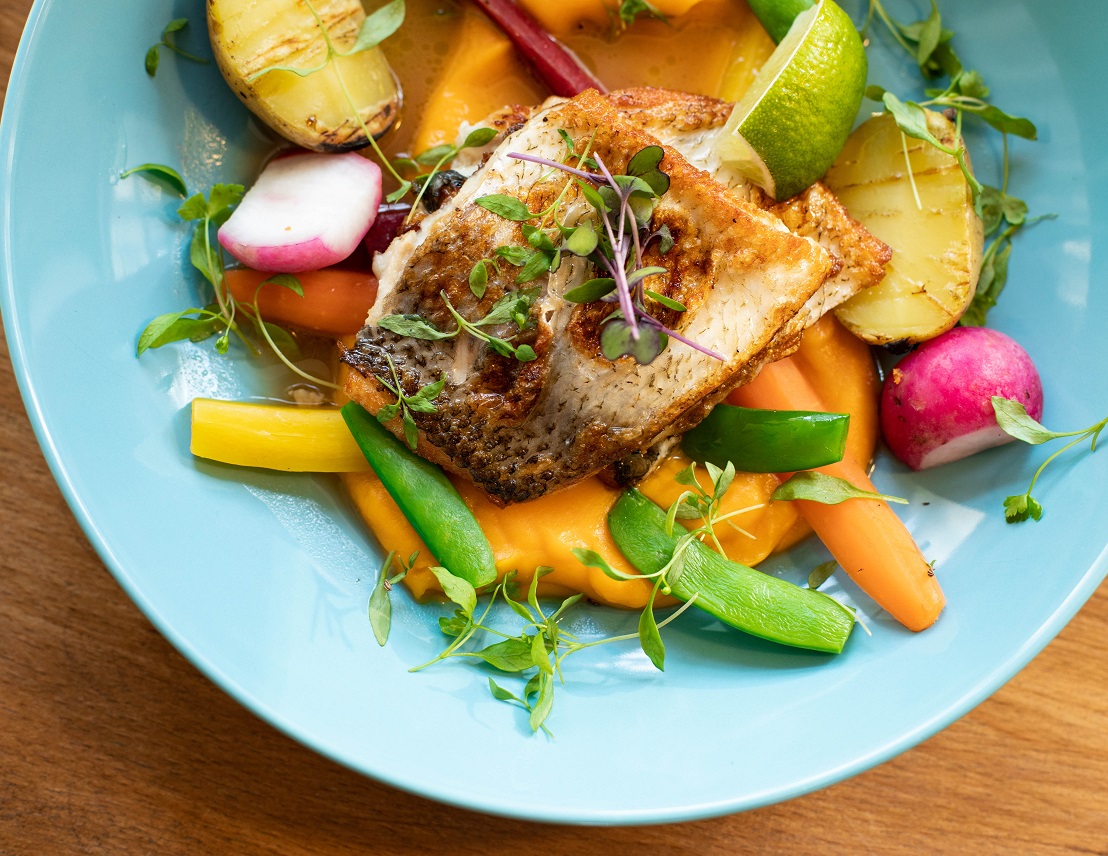 1. Include vegetables in your meals, especially those that are high in fibre. After each meal, don't miss out on a portion of fruits. Studies confirm that frozen fruits are fresher than the ones sold to you as fresh in supermarkets.
2. Tuna, salmon, and sardines are sources of healthy fats for your body. If you don't like to eat fish meat you can try drinking fish oil, olive oil, or eating peanuts.
3. Make sure to replenish the calories you lost after your workout. To do this, you can opt for a protein shake, as it is fast-acting and can help you recover in a matter of minutes. Others, on the other hand, prefer to eat something. In this case, your body will take a long time to digest solid foods, but it ensures another type of good protein for the body.
5. Don't replace calories with junk food, or food high in unhealthy fats for your body.
6. A myth has been created against carbohydrates. How it is not good for your body. That is untrue. Eat carbs since they give you the energy you need. The best time to consume this is after exercise, and when you wake up, so make sure to include it in your breakfast.
7. Eating healthy is the most important thing to achieve the desired results. If you want to gain weight and can't eat enough, you should push yourself to, at the least, eat one more bite at a time.
8. Another myth is that all fat is bad. This is totally FALSE. There is bad fat, and then there is good fat. Previously we explained where you could find them. Eat them because, without that good body fat, you could die.
9. To adapt to a specific diet, you have to get used to it little by little. Get yourself a delicious and easy-to-prepare meal. Do not think to be on a diet you have to sacrifice the flavour.
10. Keep good control over calories. Not one more, not one less.
How to know if my diet is safe and correct
The best advice is to see a nutritionist that will create a meal plan for you. But if you're good doing it DIY, some websites can tell you how many calories and what nutrients each food you eat provides. To avoid any confusion, we recommend not to be so strict about calorie counts, as all bodies are different, and each one has its complexity.
We can recommend that, if your goal is weight loss (but you keep increasing, no matter how much you have changed your diet), you should be stricter with your exercises, especially with those who work who focus on their cardio. If you see that after this you do not get better results, it is advisable to reduce the amount of food.
Key reminders before starting weight training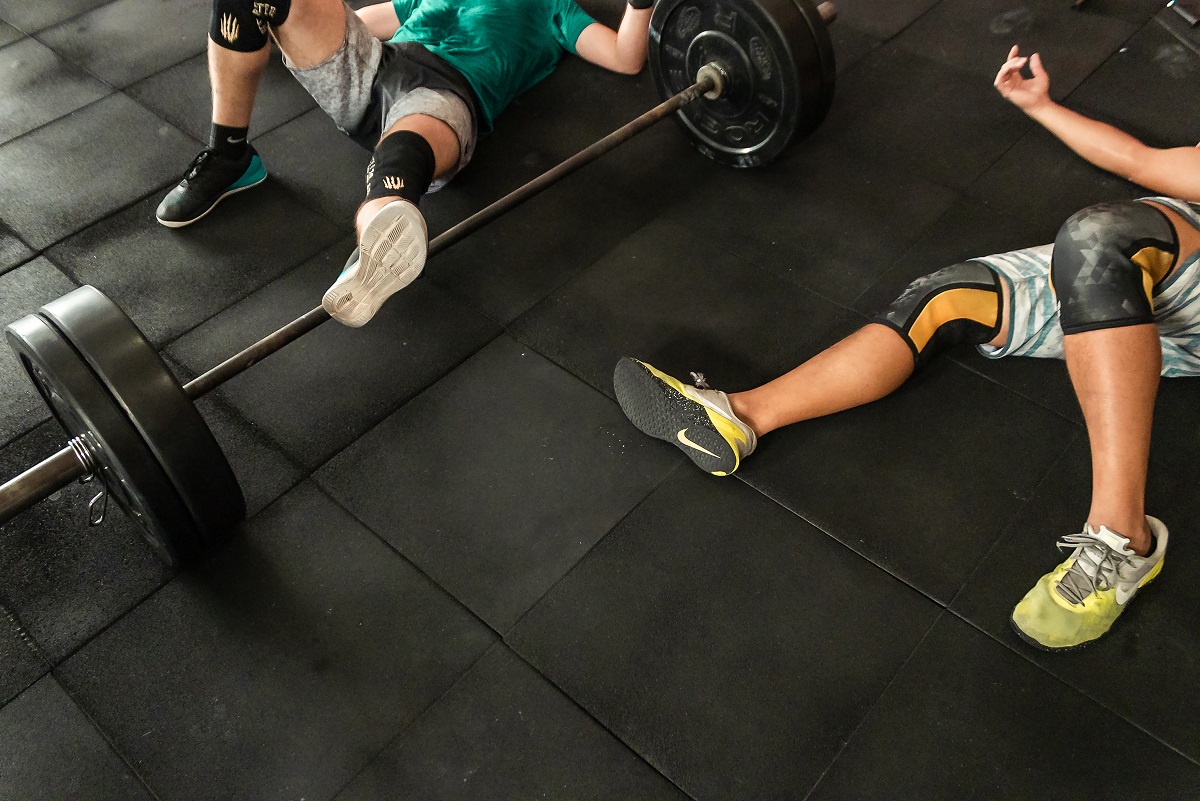 A very common mistake with weight training is to think that the more the muscle is stimulated, the more results will be obtained. Remember that you want to increase the size of the muscle, not injure yourself or pass the muscle. Here are some tips to keep in mind:
1. The position with which you lift the weights should be the most appropriate. To do this, if you have any doubts, consult the trainer at the gym. The properly executed position will be the one that allows you to exercise the muscle well without injuring yourself. No matter how light the weight, you must take the correct position all over your body.
2. Always choosing composite exercises is more beneficial than isolation exercises, since exercising several muscles in the same exercise will allow you to achieve results in a shorter time. Isolation exercises also have their advantage in some muscles where it is more difficult to reach than with composite exercises.
3. If you want to see even greater results, you should gain weight every week. If you see that you can't include more weight than you already lift, your choice will be to increase the number of repetitions.
4. Usually, 4 sets of 8 repetitions each are done to start each exercise. Try to increase up to 12 repetitions progressively, and put on a greater weight each week. The idea is for the muscle to grow every week, not to overload it and injure it, because then you won't be able to continue.
5. Each body is different, a routine that serves one person may not work for another, so each goal is personal. Don't be discouraged if you see your weight partner gain more weight than you do.
6. A common mistake in weight training is not paying enough attention to warm-up exercises. This mistake can cause you injuries, sprains, and other complications that come from not having the muscle flexible and ready for training.
Basic routine for weight training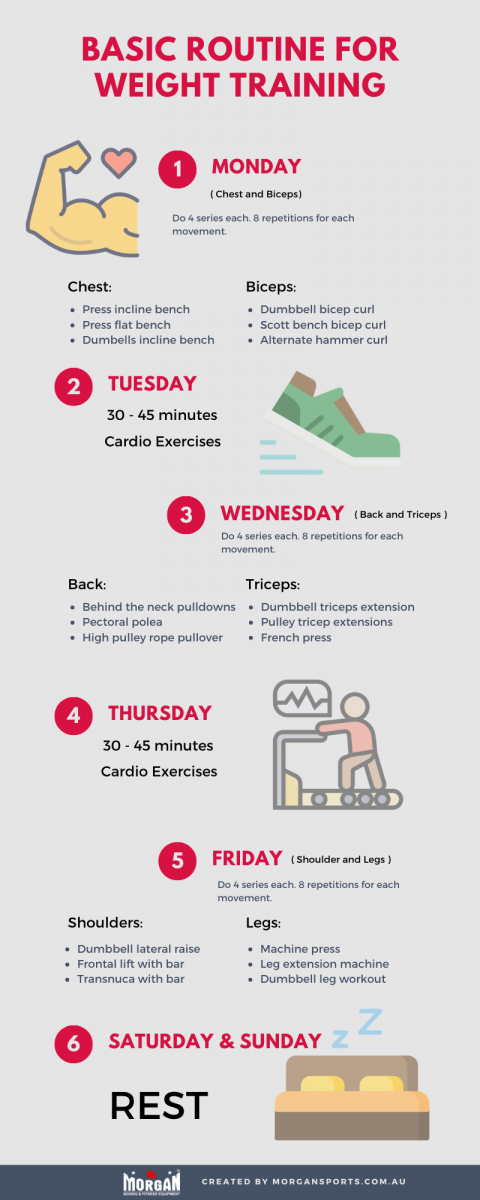 (Transcript)----
Monday: Chest and Biceps
4 series each.
8 repetitions in each movement.
Chest:
-Press Incline bench.
-Press Flat Bench.
-Dumbbells Incline Bench.
Biceps:
-Curl of Biceps with weights.
-Biceps on the scott bench.
- Curl of biceps alternating hammer type.
Tuesday: Cardio: 30-45m of cardio exercises.
Wednesday: Back and Triceps
4 series each.
8 repetitions in each movement.
Back:
- Pulley behind the neck.
-Polea to the chest.
-Pullover with pulley (arms open, a little more than shoulder height).
Triceps:
-Alternating vertical extension of the arms with dumbbell.
-Tricep extension with pulley.
-French press on a flat bench.
Thursday: Cardio: 30-45m of Cardio exercises.
Friday: Shoulders and Legs.
4 series each.
8 repetitions in each movement.
Shoulders:
-Lateral lifts with a dumbbell.
-Frontal with bar.
-Transnuca with bar.
Leg:
-Machine press.
-Extension of legs in the machine.
-Lower leg with a dumbbell.
Saturday and Sunday: Rest.
-----
This routine is basic, and you will obtain results if you do it with consistency and discipline. Here you can see all the bodyweight training routines. It is very important to see the progress, as well as to respect the rest times. In this case, it is recommended that you do not exceed 3 minutes of rest between each set of exercises.
But, remember that if your goal is to increase your strength and endurance, you should start to decrease the rest time. Remember that you are looking to increase the muscle, so do not seek to exercise excessively. Beginning with a series of 8 repetitions, and progressively increasing up to 12 repetitions, is a more recommendable option.
Recommended: machines, dumbbells, or weights
Each one has its advantage, so the recommendation is that you use all of them. In every exercise routine that you do, you may include a normal dumbbell, dumbbells, or machines.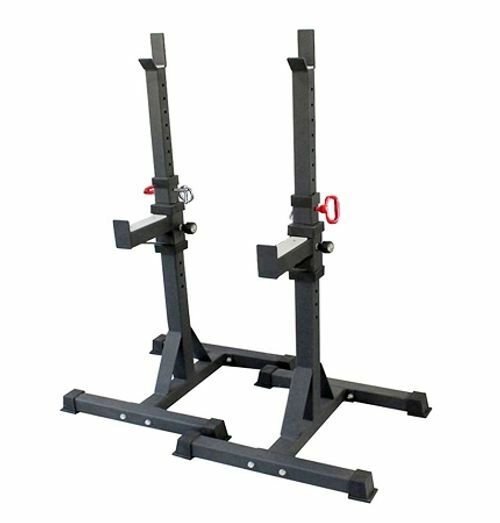 Machines have the advantage that you don't need assistance. If you intend to lift a lot of weight, however, to avoid injury, it is always recommended that someone is assisting, as is traditionally done in weight training. This will also prevent you if you feel tired, from dropping the entire weight on top of you.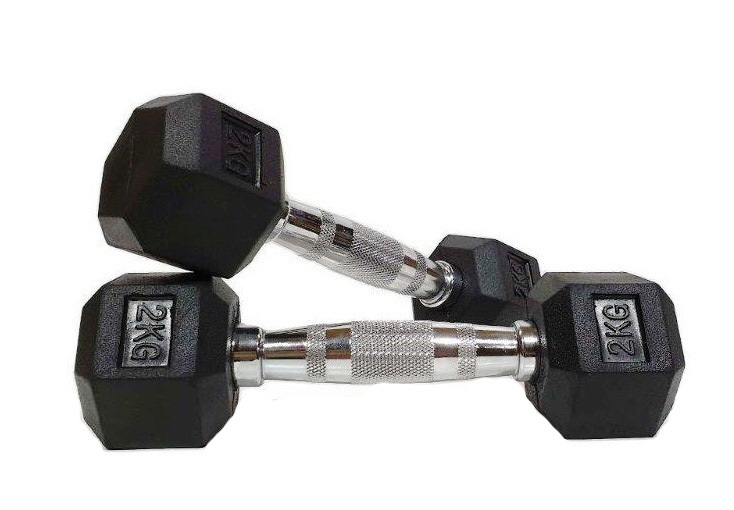 Now, dumbbells are very efficient at wanting to do exercises for specific muscles that traditional machines and weights fail to attend to. The advantage of using dumbbells is that you can control your weight a lot, and you don't need assistance. If you want to see results, the best way is to be disciplined with the exercises. Stimulating too much muscle can cause injuries, sprains, and tears.
Common myths About exercise results
"My parents are obese, and that's why I'm obese too."
Our genes determine some physical characteristics that make us look very directly like our parents, but not losing weight cannot be attributed to our genes. On the contrary, that has to do with the discipline we have when eating or exercising. So this is no longer an excuse
"I want my muscles to look as big as TV models."
When we start training, we always have some role models to follow, but do these people have their muscles as big as they look in those commercials? Or do they just have their muscles well defined? Ask yourself this question, and if you're really looking for a definition, you'll find that by doing more repetitions with less weight. If you're looking for muscle mass, you should eat more protein.
"Exercises to burn fat, in less time."
These exercises are not real, where you have heard, or read, this, surely, is because you have wanted to sell a product. If the idea you have in mind is to burn fat, you must begin to be stricter with what you eat, and time will determine your discipline and other factors. Remember that everybody is different and reacts differently to training. If you want efficient results, with which you feel comfortable with your body and with your performance, and reaching ever-increasing physical conditions, this takes time.
"To lose weight quickly, I must include a lot of cardio routines."
Cardio routines are not about losing weight. They are about getting more stamina and general fitness for exercise. If you want to lose weight, you should check that you are overeating.
"It's impossible to eat out."
Limitations on your workout and diet are up to you. If you want to gain weight or replenish energy, you can always make a shake that you can take with you wherever you go.
"Time passes, and I can't gain weight. It's time to start on steroids.
Many people, because of the anxiety of wanting to see results soon, take shortcuts that, in the worst-case scenario, do not lead to real results. If you see that you can't gain weight, look at what you're doing wrong. Changing the exercise routine, including extra weight in each series of weights, but, above all, a strict diet, is what will make you achieve better results. Remember that, in exercise, the easy way doesn't exist. If that were the case, everyone would look like TV actors, and as you can see, the reality is different.
"I don't like to do leg exercises."
When you don't do leg exercises, the results are apparent. You see a very wide body at the top and very fine at the bottom, like an upside-down cone. You should be more disciplined and include leg routines as part of the training.
"The more I exercise my abs, the faster my abs will be marked."
FALSE. Body fat is what determines that. Depending on the shape of your body, you can be marked from two to six abdominals.
Importance of cardiovascular exercises
Whether you are planning to gain, lose, or maintain your current weight, it is vital to include those who work the cardio in the exercise routine.
● Control the levels of cholesterol and triglycerides in the blood.
● Prevents heart disease.
● It helps to have a stronger and healthier heart and lungs.
● Combats insomnia, helping to rest better.
Doing cardio exercises requires physical conditions that will begin to develop as the exercises are done. You should begin to include cardio in your exercise routine. Start with twice a week and try to go up to three. Don't pass your cardio sessions three times a week. If you don't want to stop weight training on the days you exercise your cardio, you can do this type of exercise in the morning and leave the weight for the afternoon or evening.
Tips to improve your physical condition
● Doing cardio shouldn't be too complicated, just don't drive that day, or stop taking the subway and get where you want to go by walking or jogging. Another option is the bicycle.
● Go little by little. Start at the lowest level until you increase the level as the exercises are repeated. I recommend starting in 10 minutes and going up from 2 minutes in 2 minutes each session until you reach 30 minutes.
If you can get to more than that time, is also valid, but try not to exceed 45 minutes while you start, remember that you should start at a gentle pace, which can bring a conversation to par with your cardio. If you see that you can't make it to 10 minutes to start, try less, and increase. Consistency and effort will give you good results.
● A person is considered to have developed their cardio well when it can last more than 30 minutes without stopping in the exercise. To achieve this requires effort. If you are already at this point, congratulations.
Frequently Asked Questions for Beginners
● Should I change my consumption habits when I go out partying?
Definitely yes. Alcohol is something you're going to have to reduce drastically, and if you go on a date, try to go to a place where they don't sell junk food. Remember that diet is the most important thing to get results.
● Does muscle pain after exercise indicate good results?
No. Many people, after weight training, or doing any exercise, have muscle aches. This is normal but does not indicate muscle growth.
● From what month do I begin to see the change in my body?
This is hard to determine. Time is the only thing that will tell how fast your results are, but to be sure, the recommendation is to take a photo month by month with the same pose, to be entirely sure of the changes.
● Is it normal to lose muscles when you stop training for a long time?
Yes, this is because our muscles atrophy, and since they are not being exposed to any stress that makes them grow, such as repetitions in daily exercises, they can be affected and drastically reduced. But don't worry, the solution to that is to retrain and return to being strict with the diet. As you have already been doing a routine, your body experiences something that in sport is known as "muscle memory," which makes it easier to return to the physical state you were previously in.
● What can you do if you don't get weight changes over the months?
You must make a change in everything, from exercise to diet. The first thing to do is to change the exercise routine for one with more repetitions. All depending on whether you want to define, or more weight, or if you want to increase. Making a stricter diet, depending on what you want to achieve, will be very important to get the changes in the time you want.
● What do we mean by turning fat into muscle?
When you decide to lose weight through exercise, that negative saturated fat you had in your body becomes muscle, but, on the contrary, if you intend to gain weight, that is known as "inflating muscles". Many people insist on eating junk food to gain weight, this is not what I recommend since junk food has fats that are not healthy for the body and when we consume them, no matter how much we gain weight, it alters other values in the body.
● Can some muscles be "inflated" and others not?
Anatomically speaking, this is impossible. However, as you begin to do the exercise routine, you will notice with the passing of months, and depending on your type of body, you will notice how little by little you begin to see some major muscles developed than others. This is normal, but do not neglect. If you want to see results, you should regularly vary the training style in your weight training program, make some changes in your diet as well.
Remember that the body will develop depending on the level of stress you give to the targeted muscles. If you see any part of your body that isn't growing or showing muscle mass loss, you should pay more attention to it and do more exercises aimed at that part.
● But do I have to eat more fat and calories to gain more muscle?
Yes, but with a lot of control. When you start to eat a healthy diet and include exercises in your routine, the muscle grows progressively. Undoubtedly you will have to eat more fat and consume more calories, but only exercise, especially cardiovascular exercise, will make you have better results.
● How much is it recommended to add to the weights each week?
Previously we explained that to see weekly results, you are going to have to include more repetitions in the series, going from 8 to 12. You should also gain weight to a point where you are comfortable doing 4 series of 8 repetitions to start that week. The recommended ideal weight is 2lbs per week, and if the person feels that at that weight, he or she can do it quietly, then include an additional 2lbs for a total of 4lbs. Don't exceed that limit.
● Is it necessary to include supplements to improve exercise performance?
As long as you maintain a balanced diet, you will most likely inadvertently include all or a good number of supplements in it.
List of common supplements and where to find them
● Creatine: It's a matter of every trainer's taste, but creatine monohydrate is one of the most recommended products.
● Cornstarch: It has been scientifically proven to replenish glycogen levels in the body after each workout.
● Amino acids: It's common to find them in the protein sources you eat every day. You can find them in fruits and fish. Also, they sell them as pills, and although their taste is very unpleasant, it is very helpful.
● Weight Gainers: They are mostly sold in sports, powder, and component stores. There is one based explicitly on Maltodextrin, which is mainly intended to help the individual increase muscle mass through sugar. This carbohydrate is assimilated very quickly by the body, so it is advisable to take it before starting the exercise routine. Other people include barley and oatmeal in their diets as a way to gain considerable weight;
● Dextrose: This supplement brings your body to stable insulin levels for exercise; it is recommended to consume before each workout.
● Protein-based foods:
● Soy: For those who for health reasons, religious or moral, can not consume animal meat, this is a good option. Also, for those who can not consume any dairy product.
● Buttermilk: Although its taste is quite bitter, it is recommended to increase performance in exercise routines.
● Egg and rice: It is the most recommended by trainers worldwide. It helps to gain weight, maintain it, or have the energy needed to start any exercise routine, or to recover.
● Casein: Derived from milk. It is advisable to consume it with another type of protein, especially if it is eggs or whey.
Conclusion
Any goal is difficult to reach and, the in route, many con artists will try to sell you many types of products that can be false. If you want to be sure that the product you are going to acquire is going to help you in some way, you must know what it is in it. I assure you that most of them are total scams.
The body needs nothing more than a proper diet to reach its optimal state. In the last part of this guide, I emphasized the supplements that, for me, are the most necessary and where you can find them. Don't waste your money on fake supplements. The guarantee that you will gain weight is constant exercise and maintain a balanced diet.
When you have finished reading this comprehensive guide to strength training, you will have a greater ability to do your workout. You will have already gained more knowledge about exercise and diet as part of doing an exercise routine that keeps you healthy and fit. It will be difficult, but not unattainable, and you will enjoy every step you take.
For all your weight lifting needs, Morgan Sports offers a wide selection of professional-grade weight equipment including dumbbells, training ropes, gloves, endurance belts, grip aids, weight plates, power cages, free weight equipment and more. Contact Morgan Sports today!