Why do people go into boxing? Why are you?
Like any contact sport, boxing teaches different types of discipline. But how beneficial is boxing and why should you get into it?
People like boxing because of its positive effects to health and it is great for self-defense. Inspiring stories in fictional movies also made it an even more popular sport throughout the years.
If you need more convincing, here is everything you need to know about boxing.
Table of Contents
When Boxing is Not Recommended
How Much Does it Cost to Become a Boxer
Things to Consider When Choosing a Boxing Gym
Benefits of Boxing
Down to its core benefit, boxing positively affects our physical, mental and spiritual health. No doubt, it is a highly recommended fun and challenging workout for both men and women. Here is a complete list of benefits to boxing:
Improves cardiovascular health

Enhances overall body strength

Better reflex and hand-eye coordination

Relieves stress

Burns fats for weight loss

Increases speed

Improves stamina

Strengthens bones and ligaments

Develops core stability

Boosts self-confidence

Stimulates the endorphins

Manages anger and aggression

Teaches self-defense

Builds mental fortitude

Combats depression
When Boxing Is Not Recommended
If there are reasons why you should start boxing, there are also reasons when boxing is not an advisable activity or sport to engage in. So let's get these out of the way before you read on further.
According to the WBF (World Boxing Federation) medical guidelines, individuals should not engage in any boxing if they have:
Poor eyesight or any eye disorder that impairs sight

Recent major operations or surgeries

History of diabetes requiring insulin

Suffering from epileptic episodes, ALS and multiple sclerosis

Facial deformation that impairs breathing or makes it difficult to retain a mouthpiece.

Heart conditions such as ischemic and congenital heart disease

Bronchitis, pulmonary emphysema, tuberculosis
Read more about the WBF medical guidelines for other conditions. If you're fit and able to engage in the sport of boxing, one thing you also have to consider is the cost.
How Much Does it Cost to Become a Boxer?
Every sport incur costs – equipment, gears, even uniforms if you're planning to compete in pro-boxing.
If you are curious about how much you should expect to pay for a boxing gym subscription, private classes and training gears, clothes etc., we've detailed everything you'll ever need to start your career in professional boxing.
Cost of Boxing Gears
Sparring Gloves ($50 – $200)

Hand Wraps ($10 - $20)

Mouthguard ($10 - $60)

Shin Pads ($40 - $130)

Knee Pads ($30 - $130)

Elbow Pads ($20 - $50)

Boxing Helmet ($40 - $150)

Groin Cup / Ovary Guard ($15 - $200)

Boxing Shoes ($90 - $250)

Chest Protector/Body Protector ($80 - $500)

Boxing Shorts ($40 - $100)
Cost of Boxing Classes
Factors affecting cost of boxing classes:
Class Size

Frequency of Lessons

Time

Instructor Experience

Student Experience

Location
Group Class Pricing
Per casual visit ($15 - $35)
Weekly boxing subscription ($25 - $45)
Monthly boxing subscription / 10 visits ($120 - $250)
Private coaching for specialized training may cost around $85 - $130 per session (for 60 minutes).
How Much Boxers Earn
According to CareerTrend.com, a professional boxer does not earn a regular wage. Instead they are paid per fight. At the low end, especially for average boxers, average earning is around $200 per fight. Professional boxers earns between $60,000 to $375,000 for a title fight. While elite boxers can earn around $3 million up to a hundred of million or more, such as the case with Floyd Mayweather and Manny Pacquiao.
Boxing Techniques
Learning the techniques on how to both land and avoid punches is always part of becoming a boxer. Boxing techniques help you get a sense of how to improve your skills and increase your chance in the ring.
Boxing Stance
What is the perfect boxing stance? There is none. Many boxing stances can work well in different ways. The idea is to select a stance that is perfect for your style, skills and abilities. It should help you maximize your strengths in the ring and give you the opportunity to attack and defend. A good boxing stance has the following attributes:
Power

Defense

Range

Balance

Flexibility

Security

Stability

Mobility
There are two types of boxing stance both for right-handed (Orthodox) and left-handed boxers (Southpaw).
Orthodox boxing stance is for those who are naturally right-handed, where the boxer positions his weaker side, the left hand and left leg, in front and close to the opponent.
On the other hand, Southpaw stance is for the left-handed boxers and leads with the right hand and right leg in front.
The preference in stance is determined by keeping the stronger hand in the back ready to deliver a powerful punch.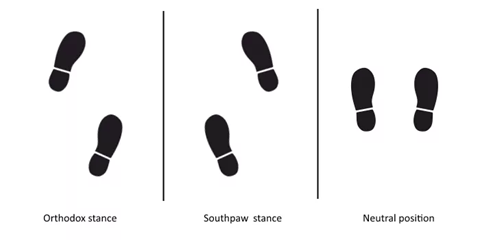 Image credit: kravmagaguild
Mechanics of a good boxing stance:
Stand with feet shoulder-width apart.

Take one step back with right foot (left foot for left-handers)

Lead with left hand and left leg close to opponent

Bend knees slightly for agility

Slightly raise the heel of the back foot for mobility

Brings hands up to the cheek level to protect face

Rest chin on chest without tensing
Boxing Footwork
Footwork is an important aspect of boxing that is most often overlooked. Contrary to what most believe, footwork in boxing isn't only about getting around the ring to avoid the punches. In fact, footwork is more about having the right stance and position to throw accurate and powerful punches toward your opponent.
Common footwork patterns:
Lateral movement (side to side movement).

Pivoting (moving with a change in the axis of the hips)

45-degree stepping (moving backwards at a 45 angle)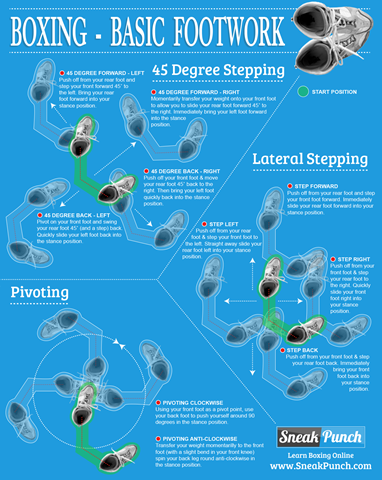 Image Credit: SneakPunch
If you want to improve your footwork, you need to regularly do these exercises:
Jumping rope

Shadow boxing

Box jumping

Ladder drills
Boxing Punches
There are four basic punches that any aspiring boxer should learn: the jab, the hook, the cross, and the uppercut. Other punches, which are less common but are worth knowing, are the bolo punch, overhand right and check hook.
Let us cover the four basic punches first:
The jab is the first punch taught in boxing classes. Although the weakest form of punch, the jab is considered to be the most important type of punch because it can punch, push, distract or create an opening to set up your other punches. Jabs are also faster, give you the most reach to land a punch, and can counter any type of punch thrown by your opponent.

The cross is another straight punch but is thrown using the rear hand (the strongest dominant hand) originating from the chin and targeting the opponent's face. It can be used to counter a jab or a cross, and to set up a hook. The cross is also referred to as the "straight".

The hook is the single most powerful and destructive punch in boxing, according to aficionados. It is a semi-circular punch that some of the greatest knockouts in history including "Iron" Mike Tyson and Roy Jones Jr have used to win in their boxing matches.

There are 5 types of hooks in boxing:
The uppercut is the vertical punch rising from the outside of the body in an upward motion and traveling center to the opponent's chin.

Image credit: Wikipedia
Less common punches:
Bolo punch – is an arm punch that is used in martial arts and comes from a Filipino word "machete". Machete is a broad and heavy knife that people from the Philippines use to cut sugar cane. The bolo punch is often cited as combination of a hook and an uppercut because it is thrown upwards (uppercut) but in a similar motion to a hook.


Check hook – is designed to counter an aggressive fighter moving forward. It is the most underutilized technique. In fact, this is what Floyd Mayweather used to connect his punch to Ricky Hatton's face.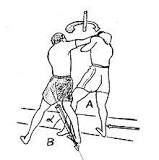 Boxing Head Movement
One thing you need to avoid in order to win at boxing is getting your face or head hit with powerful punches from your opponent. And you can do that by mastering some head movements.
The idea with moving your head is to give your opponent a moving target instead of a fixed one. There are different ways to simulate a head movement using the parts of your body:
Using your whole body. Moving your body back and forth will give an impression that you are moving your head.
Using your arm. Bringing your left glove up, and then bringing it down while lifting your right glove up and bobbing on your feet will confuse your opponent.
Using your legs. Shifting your foot placement and shuffling your weight will also make it appear like your head is moving.
Boxing Defence
In any combat sports, you have to learn two things: offence and defence. We've already covered boxing punches as your form of offence. Now, let us cover how you can defend yourself during a boxing fight.
Defensive boxing techniques help you avoid damage or physical injury in a variety of situations. Your defensive position and technique should be solid enough to land a counter punch toward your opponent.
Bob and Weave. Moving the head slightly left or right while bending the legs quickly in order to avoid the incoming punch. Once the punch has been avoided, you can "weave" back up to an upright position outside the opponents extended arm.
Block and Parry. Blocking is simply deflecting your opponent's punches with your hands and arms, while parrying is blocking and deflecting the punch away with your hand. All blocks should come with slight parrying motions in order to redirect even the hardest punch.

Slip and Roll. The slip is a head or body movement to one side in order to completely avoid the impact of the strike. While rolling or the shoulder roll uses the shoulders to deflect punches.

The Cover-up. Holding the hands up to protect the head, chin and torso with the forearms. In this defensive position the fists are pressed together in front of the face while the forearms are parallel and tucked against the torso.

Boxing Workouts
Boxing workouts should focus primarily in increasing your endurance, speed and strength. Here are a couple of workouts a boxer needs to do to be in fighting shape.
Without equipment/gear:
Burpees: increases muscle strength and endurance.
Sit ups: builds a strong core for throwing and receiving punches.
Shadow boxing: practices movement and footwork.
Push-ups: builds upper body strength for powerful impact.
Squats: strengthen legs to perform defensive techniques (e.g. bob and weave)
Walking lunges: improves balance and core stability.
Running: necessary for aerobic conditioning and is the best workout to increase cardiovascular endurance.
Sparring: simulates real-life combat by practicing offensive and defensive drills.
With equipment/gear:
Jumping rope: it improves coordination and footwork.
Chin-ups: another strength training exercise for the upper body.
Shoulder presses: enhances punching power.
Heavy bag training: helps practice your punching techniques and power.
Focus Mitt Drills: develops fast reflexes and timing.
Weight Training: increase muscle size and strength.
Types of Boxing Club or Gym
Joining a boxing gym or club paves a much easier and faster path to becoming a boxer. However, choosing a gym will depend on your goal.
If you want to train to become a professional boxer and be able to compete in the future, then hardcore fight clubs are the best for you. They will teach you how to fight. These hardcore boxing gyms are easy to spot: the atmosphere will be intimidating and you'll find tons of pro-fighters crowding in an open space drenched in sweat.
If your goal is to lose weight or basically get in shape, then a fitness center is the right choice. Coaches or trainers do not focus on boxing techniques but rather on making you burn calories, so don't expect to actually spar with anyone in this type of gym.
Yes, you can experience both worlds. If you're uncertain of whether you just want to stay in shape or move toward becoming a boxing pro, then a hybrid club is the perfect place for your needs.
Things to Consider When Choosing a Boxing Gym
Picking out the right boxing gym can be tough especially when you don't know what you are looking for. So we made a list of things you probably want to look at before deciding on one.
It is important that you choose a gym that fits your budget especially if you want a career in boxing. It could take years of training, which means regular payments to your gym.
Make sure that the boxing gym is located near where you live or work. You would have to include it in your daily or weekly schedule which means it needs to become part of your lifestyle.
Choose a gym that also teaches other forms of martial arts discipline such as Muay Thai, Karate, BJJ, Krav Maga etc. It will help you develop your fighting skills more and improve your body.
Finding a boxing gym near you that is good for beginners, intermediate or advanced boxers will help you improve faster in both fitness and techniques.
The quality of training will depend on what you are looking for as mentioned above. If you are a serious aspiring boxer then make sure to choose a gym that focuses more on boxing techniques than fitness.
Preparing for Your First Day
Before you head on to the gym, make sure you've eaten a light meal composed of carbs and fruit. Drink at least half a liter of water two hours before your class starts.

Bring your own hand wraps to protect your knuckles and wrists. There will be a lot of bag hitting and pounding and you would not want to be injured on your first day.
You can also bring your own boxing gloves if you don't like to use the gym's used ones. Anyway, if you plan to become a regular boxing student it is better to invest in your own gloves.

Wear cool, breathable and absorbent clothes or boxing outfit since you will be sweating a lot from all the workout drills. If you have long hair, bring a hair tie and a headband to keep your hair in place.

Wear comfortable boxing shoes. Boxing shoes have low heels, smooth bottom and offer ankle support. However, make sure you have decided to make a commitment to boxing before you purchase a boxing shoes since it can be a significant cost.
Pack a bottle of water to keep yourself hydrated. Other things to pack in your gym bag is a towel and some change of clothes. You would not want for people to smell your natural odour while commuting home.

Make sure to stay near the coach especially for a big group class. Staying near helps you hear the instruction clearer and see the demonstration easier.

After your boxing class, eat a lot of protein to help your muscles recover after a grueling workout session.
What do you think? Are you ready for your journey to becoming a student of boxing?
Boxing is an easy and inexpensive sport to start with. You don't need any fancy gears and equipment when you're just starting out. However, it is important that you are protected when training. To ensure you're performing at your best, Morgan Sports offers a wide range of boxing gear and equipment you will need, whether you're a beginner or a pro in the ring.
Morgan Sports has a variety of other contact sports gear that can work for you or if you're a gym owner, for your gym members. Contact Morgan Sports today!
###